Immigration Documents
For day-to-day purposes, we suggest that these documents are kept in a secure location and you should carry photocopies. However, if you are traveling outside of LaGrange you should carry the original documents with you especially if you are traveling by air, you may be required to produce these documents before boarding. Keep photocopies of all your documents in a separate location in the event they are lost or stolen.
Passport
Your passport must be valid at all times. To renew or replace your passport, contact your country's consulate in the U.S. or renew your passport when you return home. Remember to bring your new passport to the Office of Global Engagement. The DSO will need to update your I-20 and also keep a copy of your new passport on file.
Visa
The visa permits you to apply for admission into the U.S. as an F-1 student and need not remain valid while you are in the U.S. (Canadian citizens are not required to have a visa). You may remain in the U.S. on an expired visa, but if you travel abroad you must obtain a new F-1 visa before returning to the U.S. Exceptions to this rule exist for short trips to Canada, Mexico, and the Caribbean Islands. Visas can only be obtained outside of the U.S. at a U.S. consulate or embassy. Remember to bring your new
visa to the Office of Global Engagement. The DSO will need to update your I-20 and also keep a copy of your new visa on file.
I-94 Arrival & Departure Record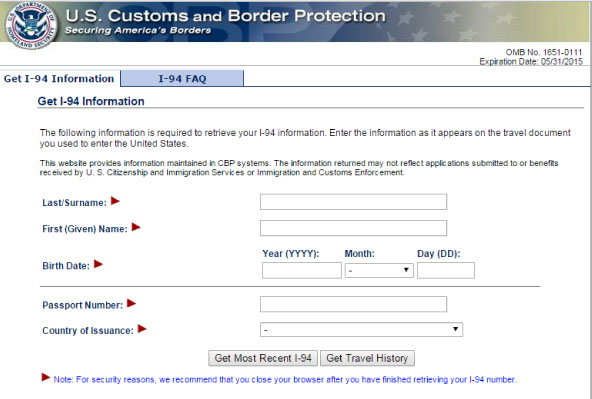 When you enter the U.S. your passport is scanned to create a Form I-94, an electronic arrival/departure record for air and sea ports of entry. The admission stamp in your visa and printed on your I-94 records the date and place you entered the U.S., your immigration status (for example, F-1 student), and authorized period of stay (indicated by "D/S", meaning "duration of status"). Be sure to check the stamp to make sure it is correct and that it was placed on the correct visa page if you have more than one visa (for example a tourist visa or another F-1 visa from previous schools).
You will need a printout of your electronic I-94 information to apply for various benefits such as a Georgia State ID card or a Social Security Number. You can obtain a printout of your I-94 record at

CBP.gov/I94

.
I-20 Certificate of Eligibility
This form is created in SEVIS and issued by a LaGrange College DSO or PDSO. It allows you to apply for a student F-1 visa and enter and re-enter the U.S. as an F-1 student. The I-20 indicates the institution in which you are permitted to study, your program of study, and the dates of eligibility. An I-20 must remain valid at all times. Allowing the I-20 to expire before you complete your academic program is a violation of status.
SEVIS (Student Exchange Visitor Information System) is an internet-based database that allows schools and federal immigration agencies to exchange data on the status of international students. Information is transmitted electronically throughout an F-1 student's academic career in the U.S. Each student has a unique SEVIS ID number, which is printed on your I-20 in the top left corner.